LED Purge Masks
Sorry, currently out of stock
Here we come with Purge LED Mask to put in the fears! 
Disclaimer - Product may not be delivered by Halloween. We are not responsible for delivery delay.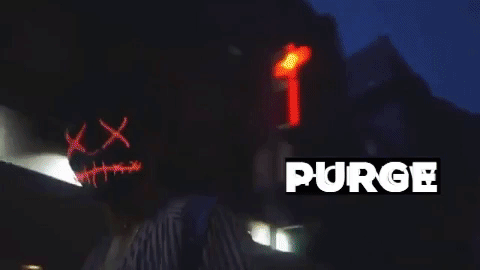 Are you ready for the party? Get your inner crazy out and dress up in this awesome Purge LED Light Up Halloween Mask. The glowing wires making up the stitched face that gives you that killer look that no one will forget. It is the ultimate party mask once the lights are off. Match it with your costume for Halloween, or bring it to a wild night out at the festivals & raves.
Own the spotlight and amaze everyone at the party with our Purge Smile Light-up LED Mask!
This will terrify anyone with its light effect and create a perfect atmosphere for celebrating Halloween for sure.This Purge LED mask is sure to create a mysterious & festive atmosphere at any occasion, just like in the movie.    
 This LED Mask is perfect for:
Taking elite photos for personal use
Stand out from the crowd at raves
Use it for Halloween  Lightup mask light up mask 
Features: light-up mask
This mask has 3 different settings Steady, Fast Blinking and slow blinking. All three modes can be easily changed by a switch.
Our advanced LED Lights are woven into the mask allowing the mask to be more durable and longer-lasting.
The LED lights do not affect eyesight as the lights are on the opposite side of the mask.
Get more than 8 hours of use in the brightest capacity setting.
Our Adjustable Nylon Strap allows you to easily adjust this mask for small, medium, and large-sized heads.
Two AA batteries are required for operation (batteries not included).